How to Prepare Your Garage for an EV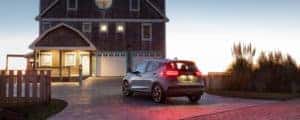 ---
If you're interested in upgrading to a more efficient drive on Kissimmee streets, then be sure to check out our Chevy EV options. Once you find the right model, you may be wondering how to get your garage ready for an EV. Easy. Our team at Starling Chevrolet can help you learn how to prepare your garage for an EV model before you decide if a Chevy EV model is right for you. Learn more with our team at Starling Chevrolet today, then check out our other tips and tricks.
HOW MUCH DOES SETTING UP CHARGING STATION COST?
If you're set on a home charging station, there are a few factors to consider before determining the final cost of it all. These include:
Your home electrical system will need to be able to handle your vehicle charging system using 120v or 240v. You can contact an electrician to make sure this is doable. Otherwise, modifications to your system will add to the overall price.

Comparison shop for your charger at home improvement stores. 

Hire an electrician to install your home charging system. 
There are also a few different types of at-home charging. Here's what the price breakdown is for Level 1 and 2 charging: 
Basic 120-Volt Portable Charge Cord (Level 1): Estimated Total of $1,300 to $2,300

Fast 240-Volt Charging Unit (Level 2): Estimated Total of $1,700 to $2,700
CHEVY PLUG-IN OPTIONS
Like most EV options, models like the Chevy Bolt EV and Bolt EUV use rechargeable batteries instead of gas engines. This means your Chevy Bolt will need to be plugged in to charge. For the Chevy Bolt, there are three charging options available. These include:
Public Charging/Super Fast DC Charge/Level 3 Charger 
Fastest charging, but still takes a bit longer than refilling a gas tank. 

Up to 76 miles of range in about 10 minutes of charging time
Home Charging/240-Volt Charging Unit/Level 2 Charger
Up to 52 miles of range per hour of charge

Charger needs to be installed by an electrician
Home Charging/120-Volt Charging/Level 1 Charger
Your Chevy Bolt includes the necessary charging cable.

Plugs into a standard three-prong 120-volt outlet

About 3.5 miles of range per hour of charge, about 20 hours to a full charge
If you're unsure about which option to invest in, take into consideration your driving habits. Should you drive less than 50 miles a day through Clermont, then you may not need a Level 2 charging station. However, keep in mind that having a Level 2 charging station in this instance means you can fully charge your Chevy EV model overnight.
SAVE MONEY AND TIME WITH AN EV
While you may be spending a good amount of money preparing your garage for an EV model, it's an investment worth your while. In the long run, you'll save more money in the following ways:
Tax incentives

: Check with our

finance department

to find out what tax savings are available to you for buying an EV. 

Fuel charges:

On average, a regular gallon of gasoline costs $2.25 while an electric e-gallon costs $1.24.

Local utility incentives:

If you opt for a 240-volt home charger you might be eligible for incentives from your local utility company. 

Less maintenance:

When you choose a Chevy Bolt you don't have to spend as much money on regular maintenance. Ditching the combustion engine means no more paying for oil changes, engine belt replacements, transmission fluid flushes, and more.

When you're on the road, you can get to places faster by taking the High Occupancy Vehicle (HOV) lane if available.

You may also be able to qualify for local utility incentives when you get a home charger installed professionally. 
LEARN MORE ABOUT UPCOMING CHEVROLET EV AT Starling Chevrolet
Get ready for the zero-emmision Windermere drives you've been searching for. Shop our inventory online today to find the model that's right for you and your daily commutes. Have questions in the meantime? Contact our team.